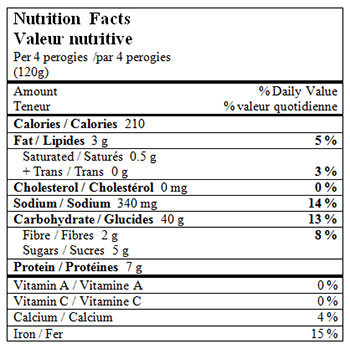 INGREDIENT DECDough
: Enriched Wheat Flour, Water, Canola Oil, Baking Powder, Salt, Skim Milk Powder, Soy Lecithin.
Filling
: Fresh Potatoes, Cheddar Cheese, Parmesan Cheese, Salt, Onion Powder, Sugar, Spices.
Contains: Soy, Wheat and Milk.Pâte
: Farine De Blé Enrichie, Eau, Huile De Canola, Poudre À Pâte, Sel, Lait Écrémé en Poudre, Lécithine de Soya.
Garniture
: Pommes De Terre Fraîches, Fromage Cheddar, Fromage Parmesan, Sel, Poudre D'oignon, Sucre, Épices.
Content: Soya, Blé Et Lait
COOKING INSTRUCTIONSNOTE
: Prepare perogies from the frozen state. Cook until a minimum internal temperature of 74°C (165°F) is reached. Since appliances vary, the instructions below are guidelines only.
CAUTION
: Perogies must not be deep-fried, as submerging in hot oil may cause them to burst, splashing hot oil and causing injury.
FRY PAN
: Place frozen perogies into unheated non-stick frying pan with 2 tablespoons of butter/margarine/olive oil and 3 tablespoons of water. Cover and fry on medium heat for about 6 minutes until golden brown. Then flip perogies over, brown on other side for 2-3 minutes uncovered.
BOIL
: Place frozen perogies into boiling water (salted to preference) and gently boil on medium-high heat for 6-7 minutes. Drain and serve.
SUGGESTED TOPPINGS/GARNISHES
:
• Sour cream, sautéed onions, ham, bacon or sausage.
• Salsa or pasta sauce.
• Melted cheese.
• Gravy, melted butter or meat sauce.
CLAIMS
• Low in Saturated Fat
• Low in Cholesterol
• Source of Iron
Product of Canada
MODE DE CUISSONNOTE
: Préparer les perogies à partir de l'état congelé. Laisser cuire jusqu'à l'obtention d'une température interne minimale de 74 C (165 °F). L'application des instructions ci-dessous peut varier selon les appareils utilisés.
ATTENTION
: Ne pas frire les perogies dans la friteuse parce que la submersion dans l'huile chaude peut causer les perogies d'éclater et de faire des éclaboussures d'huile chaude entraînant des blessures.
POÊLE À FRIRE
: Placer les perogies congelés dans une poêle à frire antiadhésive froide avec 2 cuillerées à soupe de beurre, de margarine ou d'huile d'olive et 3 cuillerées à soupe d'eau. Couvrir et frire à feu moyen pendant 6 minutes ou jusqu'à ce que les perogies soient bien dorés. Retourner les perogies, faire dorer l'autre côté pendant 2 à 3 minutes sans couvrir.
EAU BOUILLANTE
: Placer les perogies congelés dans une grande casserole d'eau bouillante salée. Cuire de 6 à 7 minutes. Égoutter et servir.
SUGGESTIONS D'ACCOMPAGNEMENTS OU DE GARNITURES
• Crème sure, oignons sautés, jambon, bacon ou saucisses.
• Salsa ou sauce pour pâtes
• Fromage fondu
• Sauce brune, beurre fondu ou sauce à la viande
• Faible Teneur en lipids saturés
• Faible Teneur en cholestérol
• Source de Fer
Produit du Canada